Love it!!
While back I spied on
Ruby's
blog that she had been a Guest Designer for
Scrap n Craft with T
and that the store owner,
Tanyah
, was asking for new Guests. So I went have a looksee and shot off an email. The lovely
Tanyah
then asked me to be one of the Guests for September, woo hoo! So I have been waiting to share these creations with you!
This page I made with Cardstock – Bazzill, Pattern Paper – Fancy Pants, Prima Paintables, lettering – American Crafts, giant flower, water colour paint, Mod Podge, ink and a pen. I also used some tulip bulb packaging as a mask for the dots.
With the paintable I coated it with Mod Podge, after I painted it, so it gave it a glossy look and also gave the paper a different texture.

and this page I made with Cardstock – Bazzill, Pattern Paper – Prima, Stamp – Autumn Leaves, lettering _ American Crafts, ink, staples, machine stitching, hole punch and a pen.

Tanyah is still calling for Guests so go check it out and also check out her blog as the whole month of September she is having a blog party with lots to learn, lots to see and lots to win!!!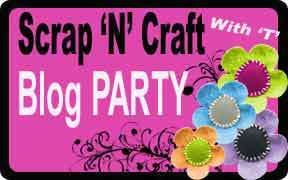 Back on the home front... Elizabeth had her last day for second term. Her kindergarten is off campus and the school has just completed huge renovations so as of Wednesday her kinder will be part of the 'big school'. So tomorrow and Wednesday the kindergarten will be swamped with removalists etc so the teacher asked if parents could keep kinder kids home... I was only too happy to comply lol So now Elizabeth is on school holidays :)
For my regular longtime readers... last night our toilet paper sculpture was back!! She hasn't ummm created in a while so it was a little bit of a surprise to have Dave come in last night to say they were back and back with style!!!! hehehe

As I said in yesterday's post, I was going to have a break from scrapping but my goodness it ain't happenin'! When I made my OLW layout yesterday I took an old envelope and some masking tape to make a mask for the glimmer mist. Well I loved how it looked so I kept it and had to use it. So I did... on this...

Lovin' the flap thing at the moment, can you tell lol. I am not a big fan of hidden journaling, in fact I think I have only ever made 2 pages where you couldn't see the journaling, thats the out there kinda girl I am I spose lol. Anyway I love that the flaps aren't really hidden journaling, they are more a part of the page, like 2 layouts in one, like an extension of the page... Well, I made this page with a letter for Lucy. It's a letter that isn't for now... its for one day in the future. Its a little secret just waiting to be found ;)
For this page I used some more of the My Sweet Spuds kit as well as some of the new Scenic Route that I received this week. Fun to play :)
For our 12th birthday, that's what we call today cos it's not our anniversary just our going-out-date-to-remember... I got Dave a tshirt, has pinnochio on it with a long nose saying It wasn't me.... and he bought me Juno DVD. I have wanted to see this movie so now I can... don't know when lol
Grandma.... 6 sleeps to go!!!!!!!!!!!!!!!!!!!!!!!!!!!!!!!!!!!!!!!!!!
Pin It Now!