Monday
Just after I blogged Megan started throwing up. So Monday night was a up and down night followed by her spending the Tuesday morning like this
while the others played.
it was a freezing morning and this arrived, a RAK from
Belinda
.
I saw them and thought they will be a perfect welcome home present for my Mum, whenever that will be, sigh. Thanks Belinda, you are an amazingly creative soul, they are amazing and beautiful!!

The afternoon we had some sunshine and the girls got busy with paper again.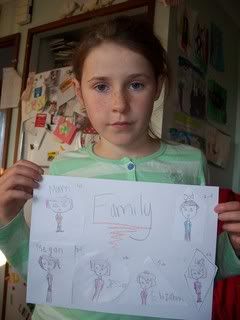 Elizabeth made a hula skirt....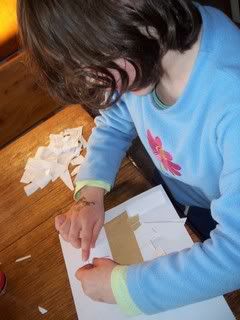 and Jessica a robot.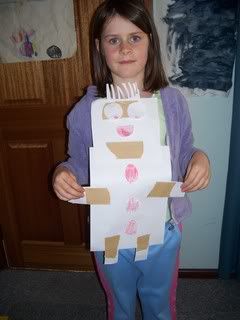 Lucy also made something but quickly hid it away in the castle she made the other day.

Yesterday was Jessica's 8th birthday, they were out of bed around 5.30am all excited but we put off the present opening till 7am!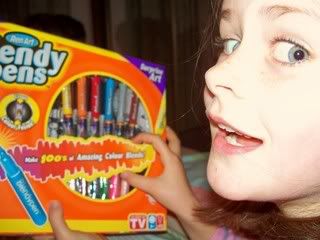 We had friends come over for lunch, which we all thought was fantastic ;)
My Dad, Poppy came for dinner. Dinner was the requested chicken and chips and Dad had made us an apple pie.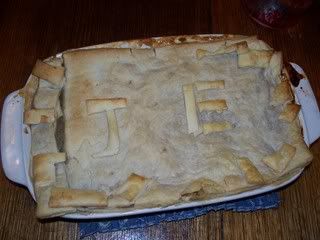 The J is for Jessica and the E was for Elizabeth as Dad hadn't been able to come for Elizabeth's birthday.

My fave photo :)
and touched the bottom so she had to kiss all the boys...
But they didn't mind ;)
Today...
Grocery shopping, which included the holiday cereal and other goodies that made the way into the trolley. On the way out we saw a deal for a Nintendo DS. Megan had been saving up since February and I had been going to take them into town tomorrow and surprise her with one, matching her money to buy it. But this deal was a good one so we went and got it today. She was surprised and soooo happy, although has been nagging me about when she can get new games lol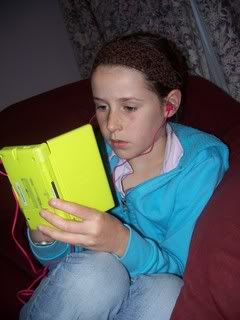 Dave came home for lunch and when he went back to work us girls went back to the shopping centre and spent the birthday money that had been sitting in wallets awaiting such an occasion! Jessica bought the Twister Dance DVD game, Elizabeth some new littlest pet shop toys and Lucy bought... a unicorn :)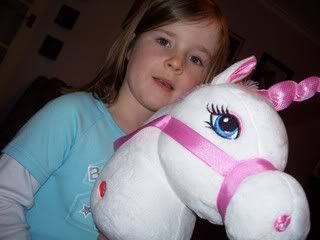 Will leave you with some of the pages I have made for
Karen's Scrappin Kupboard
, from November, April and the recent one that is on the home page :)
Pin It Now!