Dave had soccer yesterday and came home looking like this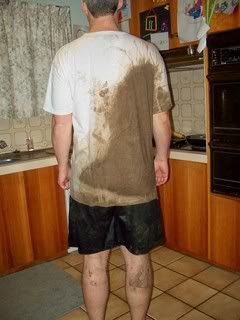 He also made us some Brandy Snaps for dessert, he used some plastic pipe to roll them...
Yep a boy lives here :)
Love him!!
Here are the snaps :)
This morning we were on car park at Church, waving hello and welcoming everyone as they drive in.
So with that in mind and the fact that school goes back tomorrow, we took the girls to Subway for breakfast
This afternoon Megan was playing her DS and letting everyone have a go.
I spied her and Jessica sitting in the doorway of Jessica's bedroom, had to take a photo :)
Scrapped today
using some
Such Sweet Tierney
chipboard buttons
bits from the May
Q-Tea
kit, some
American Crafts
paper
and some
Kikki-K
products
School back tomorrow.
Life back to it's busy self.
Pin It Now!